History
It is in 2002, with his significant technical expertise and the help of his wife Linda's administrative know-how, that Claude started up a small family owned cabinet company. From the small basic shop in the basement of his family house, to the set-up in his family garage, the expansion of the business lead them to move in a more spacious workshop on Boundary Road in Alfred.
The new workshop is a real gem for the new owners as it is in fact the old paternal barn, converted for their needs. This is where the business took off, and where they spent many happy years, until the owners purchased the current store in 2008. The business is located in the heart of Alfred. This new facility has two showrooms and has more than 14 000 square feet.
From one employee at the beginning, the business now employs more than a dozen employees and continues building partnerships and trades with many talented sub-contractors.
This business not only made its mark on the quality side of things for the last decade, but also with its service by putting the customer's satisfaction first.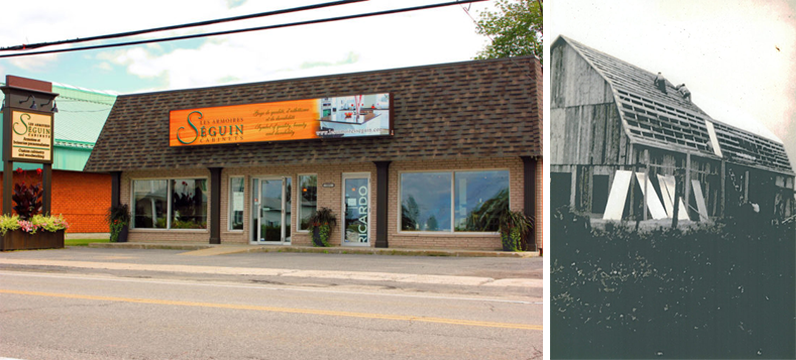 Mission
At Seguin Cabinets, we want to transform your dreams and concepts into reality. From cabinetry to personalized woodworking, we can fulfill all your design, manufacturing and installation needs, at any budget.
Vision
Seguin Cabinets is the premier reference in personalized cabinets and woodworking projects in the Eastern Ontario, Ottawa and Cornwall region.