Custom cabinetry and woodworking
With 3 dimensions layout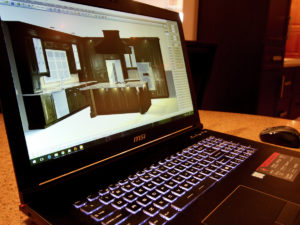 In order to get a price on your project, please call at the office and an appointment according to you schedule will be fixed with one of our designers. We will then go onsite to take all the required measurements. Our first proposal is free of charge. Our skilled designers will give you advice with the dimensions, colours, materials, accessories and will help you build your dream. Our designers are caring and your satisfaction is their priority. Our showroom is the perfect environment for your selection as you can choose from our wide range of colours, doors, mouldings and other samples. If you are however unable to make it to our showroom, our designers will bring our mobile samples so that you can make your selection from the comfort of your home. Once the project is finalized, our team of installers will be at your service to ensure that your project meets the highest level of quality standard.
Our costumer's satisfaction is our highest priority. We want to help you build your dream and we want it to be an effortless and rewarding experience. It will be our pleasure to be by your side in every step of your dream project. Our expertise is at your service; you own the key to your dream project.
Disaster cabinets restoration
We can help recover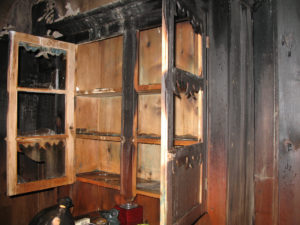 For many years now, Seguin Cabinets deals with different disaster restoration companies. In fact, when a client has to deal with a disaster in his home, we can repair if possible, or replace the damaged units with the same product as before. We work with sample laboratories that allow us to accurately copy the colours applied on the wood. Furthermore, Seguin Cabinets has no limits when it comes to the products we offer. We are committed in providing you with the product you are looking for. The measurements are taken by hand and with almost fifteen years of experience in the field, your project will surely be very accurate and the details perfect. Your project will look the same as before, and even better! You can also choose to upgrade your kitchen with new products and a complete new design. An approval on the upgrades quotation will be required.